Conference in Makhachkala "Perspectives for preserving national and religious traditions in situation of extremism" (june 2018)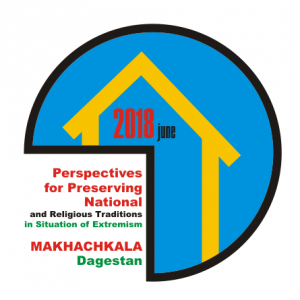 Discussion topics
Cultural heritage preservation and religious and ethnic peace.
Prevention of violent extremism.
Fighting against extremism and terrorism.
Participants
opinion leaders of the peoples of the Middle East and North Caucasus;
experts from Russia, Turkey, Syria and Iran;
governmental agencies;
Dagestani youth representatives.
Expected outcomes
to support an international image of Dagestan through the investigation of its successful experience
of the ensuring ethnic and religious harmony;
to work out recommendations for the development of post-war Middle East, contributing to the struggle against terrorism and extremism.