International Conference in Vladikavkaz "North Caucasus at the Crossroads of Civilizations: Cultural Politics as Resource for Strengthening Interethnic and Interreligious Peace" (september-october 2018)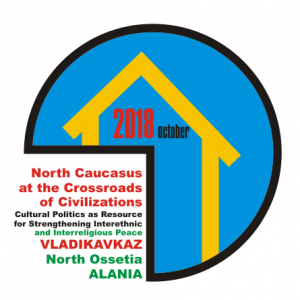 Discussion topics
Ethnic and religious peace as a basis for interaction between the regions of the Greater Caucasus and Middle East.
Russian cultural policy and economic potential of Ossetia to promote and strengthen its relations with the Middle East.
Caucasian diasporas potential for the development and strengthening of the relations with the Middle East.
Cultural ties between multi-national and multi-ethnic regions of the Middle East and Caucasus.
Participants
representatives of the peoples of the North and South Caucasus;
experts from Russia, Turkey, Iran, Armenia;
Caucasian diasporas from Turkey;
governmental agencies;
Ossetian youth representatives.
Expected outcomes
to propose Vladikavkaz as one of the potential platform for the inter-civilizational dialogue;
to establish cultural, economic and social ties with the Middle East;
to provide analytical and governmental support for the development of the Russian section of the International North-South Transport Corridor up to Armenia, Iran, Turkey and the Middle East.